Jungle Park Nature Reserve, the jungle in Tenerife
The Jungle Park Nature Reserve located in Arona just outside Los Cristianos has recently inaugurated a show starring four Californian sea lions that have come to the park for a new daily spectacle.
The animals, Casper and Pearl, aged two years along with Xana and Cookie, aged four years, their show and team of coaches were presented by Victor Pablos to the waiting media.
In order to present this show, the Jungle Park has had to remodel its facilities with a new enclosure of three swimming pools, one for performing in and the rest where they can spend the remainder of the day.
The Jungle Park now offers the most exotic flora and fauna from five continents and one can see 100 different species in its more than 75,000 square metres.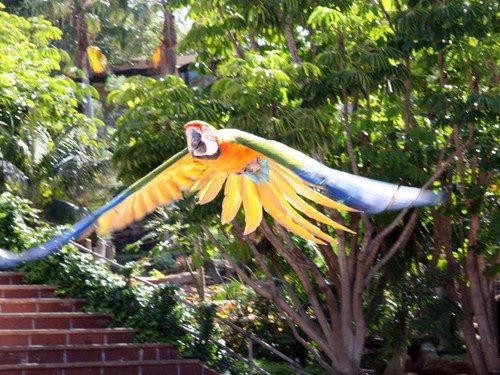 It also features white lions, leopards, jaguars, tigers, orangutans, chimpanzees,capuchins, reptiles, birds of colour, vultures, eagles and countless animals from around the world including a condor from the Andes with a more than three metre wingspan.
Another attraction the park offers is an exhibition of birds capable of reaching 230 kilometers per hour in an exercise of complete freedom. The Jungle Park works closely with the European Breeding Program and looks after the welfare of the animals in a constant effort to offer them an environment close to their natural habitat.
Along with the latest attraction it is possible to cross the park by means of ropes, bridges, passages and tunnels of more than 300 metres. This is very popular with all children.
The Jungle Park Nature Reserve is run by The Aspro Group which was founded in 1991. They have 41 centres in eight European countries. In Tenerife the group specifically manages the Tenerife Aqualand in Costa Adeje and the Jungle Park.
Aspro is an organization that develops a broad program of social welfare activities and through the Aspro Natura Foundation conducts educational activities, breeding, conservation projects and research among others.